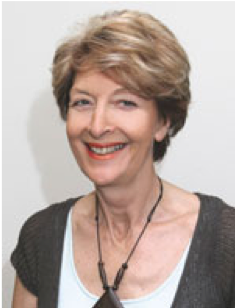 Valerie Warwick is a communicator on many fronts: as an author, a workshop presenter, the owner of Playtime Productions and director of the Redland Young Actors Group. She works in public relations and marketing in the independent sector of education plus has served on several local committees. Since childhood in the UK, Valerie has been involved with all aspects of the stage, performance and theatre. Valerie married an Australian and had two children before arriving in Australia.
As an author and under the banner of Playtime Productions, she has published 8 books including two plays for senior students, a musical, a collection of skits and a book of character recitals for younger performers, two poetry books and a teacher resource, 'Prep – A Class Act', which is one of Early Childhood Australia's recommended teacher resources. Her latest book, 'The Anthology of Performance Poetry' was given a deed of licence by the Australian Curriculum Assessment and Reporting Authority (ACARA) for tying in with their call for the inclusion of Indigenous literature and communication in the new National Curriculum for Foundation to Year 10; her book presents a section of communication about literature of the Australian Aboriginal and Torres State Islanders.
As a Publisher, Valerie has adapted two stories written by other authors and converted them into plays for junior performers, these works have been published under Playtime Productions. Recent works include 'Monsters Galore' by Trevor Salter and 'Anna and the Giant Tree Slug' by Nikki Shaw. Valerie was also responsible for bringing together the publication of the popular book 'From Page to Stage' by poet, Jeremy Green. Playtime Productions books are sold interstate and overseas through various educational suppliers. She also writes scripts on demand.
As a workshop presenter, Valerie devised 'The Magical Key to Literacy', a professional development seminar for early childhood teachers, covering the benefits of drama in education and its introduction into the curriculum. She has presented for major organisations such as the Australian Literacy Educators Association, Brisbane Meanjin Local Council and Primary Arts Network and has presented at state conferences for Early Childhood Australia and the English Teachers Association of Queensland as well as various Arts Council and Rotary events, plus numerous Queensland State and Independent Schools.
Playtime Productions is owned and run by Valerie. It was founded in 2001 as a vehicle in which to promote her drama resources. Fo nearly two decades Playtime Productions has supplied original, teacher-friendly, drama resources for kindergartens, schools, theatre groups, drama teachers, English teachers and Eisteddfod contestants.
Education, Public Relations and Marketing: Valerie has been involved with the independent sector of education for over three decades, having worked in the areas of marketing, promotion, enrolment, function co-ordination and facility-hiring, fundraising and as the writer of advertising material and educational editorials. For many years she acted as Director of Marketing and Public Relations. Valerie still works within education in a part-time capacity as the editor of various College publications and promotional editorial materials. Her experience of 30 years-plus in education has provided her with opportunities to diversify and write in different genres, which enriched and added to her experience as a writer, it also gave her the opportunity to research educational areas of interest, i.e. early childhood learning, the importance of the performing arts in the curriculum and the benefits of various teaching and learning frameworks. Valerie has written papers and contributed articles to various educational institutions and magazines over many years.
Drama Teaching: Valerie is the director of the Redlands Young Actors Group, which runs three- hourly drama workshops for primary children and early teens. Valerie has also acted as producer on several major school musical productions, bringing together rehearsal schedules, scenery, props, lighting and sound, ticketing, programs and all promotional materials. She also trains students for Eisteddfod entry and Drama Examinations. Valerie is a full member of the Communication, Speech and Performance Teachers Inc., (previously known as the Speech and Drama Teachers Association), a holder of a Blue Card and is an accredited syllabus Drama Teacher.
PR and Communication: Valerie instigated the formation of the pilot committee for the Redland Eisteddfod. She was also a founder member of the Redlands Academy of Dramatic Art and developed a program for students with Downs Syndrome encouraging the Redlands Eisteddfod to introduce the Special Needs Section which ran for many years. Valerie has acted as show compere for the Endeavour Foundation and Asthma Foundation Queensland, she has acted as Judge for the Redland City Council Tourism Awards, presented for the Reader's Cup and has given talks to both state and independent schools on poetry and creative writing. Over the years, Valerie has initiated many performing arts events in the local community.
Writing, speech and drama, marketing, public relations and communications have been her mainstay.